Original comic page at: https://youngprotectors.com/typ2/spooky-jones-past-sins-page-9/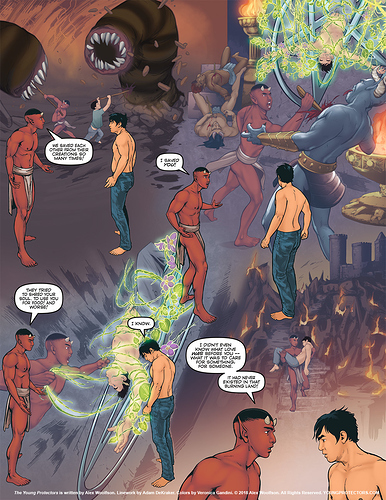 Welcome to a little street known as Memory Lane…
I think Adam and Vero created a really spectacular page here. Chapter 3 has a number of epic visuals, actually, but as a writer, I knew I could count on Adam and Vero to nail my (very challenging) requests. I especially like how Vero colored the magical, soul-sucking plant—so cool! It's a great to know that I can really push my imagination and then receive art that's even cooler than what I had in mind. It opens up so many story possibilities. I feel very lucky to be able to work with them.
So! We're getting to learn a bit more about Anaado's and Spooky's backstory. (And get another little glimpse into Hell to boot.) Seems like Anaado was there for Spooky when he really needed him. How will this blast-from-the-past affect Spooky? What more will we learn? And, most importantly, who in the Comments will be first to give a name to that plant?!
Tune in this Saturday to find out! Hope to see you there!