Original comic page at: https://youngprotectors.com/typ2/spooky-jones-past-sins-page-13/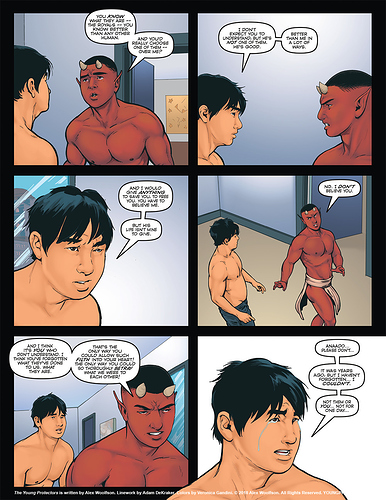 Ouch.
So! Anaado refuses to believe that a Demon Prince could ever be good and sees ending the spell as a stab in the back. Things sure don't seem to be going well. But we know Spooky can sometimes work miracles in the last second. And he can be good with heart-felt words when he has to be.
Will he be able to pull some rabbit out of a hat this time and get Anaado to understand? Or will he have to send his first best friend unwillingly back to Hell and torture, with the ashes of betrayal in his mouth? And if so, how will that effect Spooky—and his relationship with Kyle?
Tune in this Saturday to find out! Hope to see you there! 😀