Original comic page at: https://youngprotectors.com/typ2-patreon/legendary-ch1-page-31/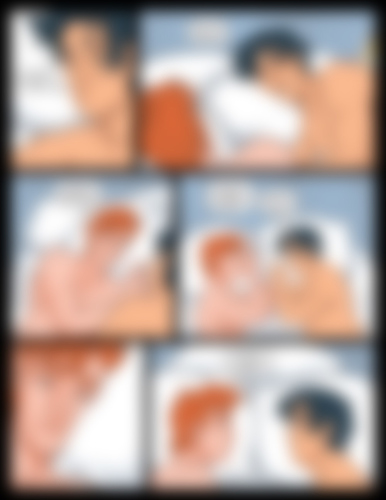 Hmm. Where is this going?
Thanks to our awesome Patrons, this is the second month in a row of support for this comic that's not just breaking even, but is actually beyond that. After almost a year of being in deficit, I'm now able to finally start building back my savings a bit and that's reducing my stress in a huge way. It makes this project a lot more sustainable and it's all because of your very generous and continued support. I couldn't do this without you. You're the ones making this comic happen. And I'm grateful to you all.
And, of course, I'm always looking for ways to show my gratitude to those who are able to support us in this way. So, in addition to the extra-sexy comic pages, here were the special Patreon rewards for November:
![|300x518](upload://d94nkvbjhA7wOivpzc5ZYxQLi9M.jpeg)
(Click on the image for a full description.)
In addition to getting to see all the uncensored "Legendary" pages, $5+ Patrons (even brand new ones!) can download all of these full-color pin-up immediately.
![|300x214](upload://zUpFBg12DFlmZyUl1UGGJPQekoi.jpeg)
Also, as you know, for a variety of reasons, I don't want to leave NSFW images up for too long on Patreon. So, I've been sunsetting some previously posted NSFW images by removing their links.
For November, this will be your last chance to download David Lopez's Kyle NSFW Pin-up, which you can find here. After December 10th, I'll be removing the links to the NSFW art for that. So, if you want to see our firebending hero naked in a more painterly-style now is the time! 🙂
And, of course, $10+ Patrons will be sent a high-res version of all of these wallpapers with over double the resolution on December 10th!
There are lots of great benefits to being a Patron (you can see them all here along with an explanation of what the heck Patreon is), and you'd really be helping me out if you became one too. If you're enjoying our work here and would like to see it continue (and would like to get access to all kinds of special benefits),
please take a moment to watch the video on my Patreon page and consider becoming a Patron.
So! Kyle is full of questions, it seems. But this last one seems like a curveball. Why would Kyle ask that? How is Spooky going to answer? And what will it all mean?!
Tune in this Saturday to find out! Hope to see you there! 😀