Original comic page at: https://webcomics.yaoi911.com/typ3/doublecross-ch1-page-34/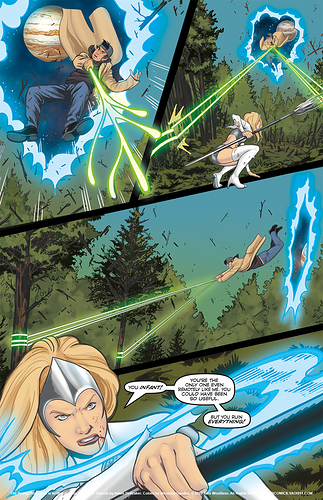 Just a fly in the ointment. The monkey in the wrench. The pain in the ass. Right, Priestess?
Welcome to our first, ever preview page! Woot!
You can comment (and see other readers' comments!) on this page here on the Community site.
Only other $5+ members of the Woolfpack will be able to see those comments for now, but they will automatically show up under the webcomic when the page is officially made public. (So, of course, please restrict your comments and insights about this page to that Sneak Previews category on the Community site until the page is made public—you don't want to spoil things for the other readers!)
I'll also be posting up my specific thank yous to patrons in these notes on the actual update days themselves, so I have the most current info. But let me say right here and right now: THANK YOU SO MUCH!
If you're able to read this page, then you're the reason why I've been able to continue telling this story. I couldn't do it without you. That's why I think you and all the other patrons are the real superheroes of this comic.
I am very grateful to each and every one of you, and I really hope you enjoy this new benefit of being a member of the Woolfpack! 🙂
So! Spooky isn't spaced… yet! But it looks like he's hanging on by a thread (or vines or whatever…) Will those be enough to keep him safe? The Platinum Priestess seems pretty angry—do you think she might have another trick up her (now-tattered) sleeve? And even if she doesn't, how is Spooky going to get out of this predicament?
Let me know your thoughts in the comments at the Young Protectors Community! And tune in on Tuesday night to find out what happens next!
Hope to see you there! 😀