Original comic page at: https://youngprotectors.com/typ3/doublecross-ch2-page-21/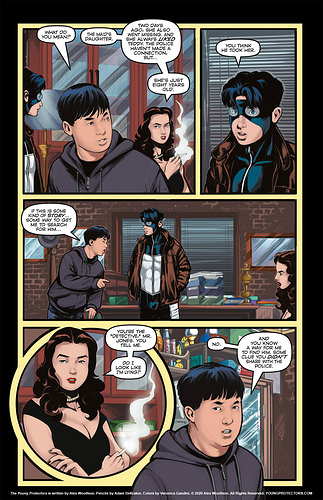 Check meet Mate.
Patrons (even brand new ones!) can now download the NSFW Kyle/Anaado Pin-up by Travis Moore!
Y'all did it! Last month, you tipped our support past $5,500/month, so you've unlocked a special, fully nude pin-up of Kyle and Anaado sunbathing in Hell by superstar artist Travis Moore!
Just for the month of February, all Patrons can download it immediately. And, also just for February, $10+ Patrons are able to download a high-res version with over twice the resolution!
So, if you're like to have the full, uncensored pin-up (showing a double full-monty), please hop on over to my Patreon page right now! And thank you so much to all of you who joined the Woolfpack on Patreon last month, and a huge thank you to all the Woolfpack members who have continued to support this work month-after-month!
Y'all are the real superheroes of The Young Protectors!
ANNIVERSARY PATRON THANK YOUS
It's my great pleasure to send out another, very special Woolfpack anniversary "thank you!" to the superheroes of this comic who have been supporting our work month after month!
I'd like to send out a big thank you to a member of the Woolfpack who has been supporting our work for 24 months of this week (Feb 2-8):
Travis M.
(Two years of support! Thank you so much, Travis!)
And a heroic thank you as well as for a Woolfpack member who has been supporting our work for 36 months of this week (Feb 2-8):
Gregg
(Three years of support! Thank you so much, Gregg!)
And let me also send out my biggest howl to those members of the Woolfpack who have been supporting this comic and our work from the very beginning!
These are the awesome readers who have been supporting me and this comic for 60 months (5 years!) as of this week (Feb 2-8):
Oats, RRM, Sveny, David-James B., Orlando B., Matthew C., D Christian H., Carmine M., Gary R., Monika R. and Jim V.
Thank you so much, Oats, RRM, Sveny, David-James, Orlando, Matthew, D Christian, Carmine, Gary, Monika and Jim! Y'all are so awesome!
Thank you allso much for your amazing, ongoing support! It's the consistent support that is what really allows me to continue making this comic. You all truly are superheroes!
Would you like to make sure this comic continues? Ready to dive even deeper into The Young Protectors world? Learn more about all the benefits of joining me and your fellow readers as part of The Young Protectors tribe on Patreon and then join the fun!)
So!
So! Ambrosia has revealed that there could be another life at stake here! A little girl! Is she really telling the truth? Do you think her claim will make Spooky change his mind about searching for this brother? Should it?
Tune in next Saturday to find out! Hope to see you there! 😀