Original comic page at: The Young Protectors: Double Cross Chapter Four—Page 57 - Young Protectors Webcomics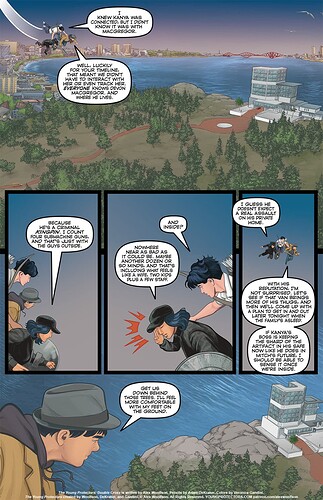 And now, back to saving the world…
Please note: These are work-in-progress colors. Vero should get me the final colors soon.
Special pin-up for $5+ Patrons!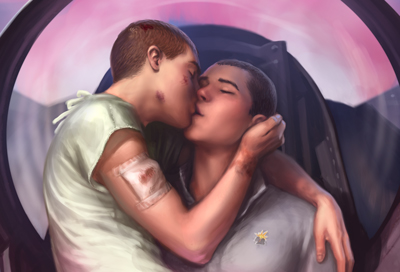 Happy Ending Print for $5+ Patrons
I have a bunch of fun pin-ups (including NSFW art) of our characters available for the Woolfpack on Patreon to download, and I've just added one more! This one is a blast from the past. It's Jeff and Deacon from Artifice!
The art was created by my Artifice co-creator, Winona Nelson, way back when I had my first Kickstarter (for printing the Artifice books). While I've always been happy with how that graphic novels ends, even I have to admit that the concluding page is a bit abrupt, so I wanted to create something that proved that our heroes had their happy ending. I had a vision of our heroes sharing a sweet kiss as they rocketed away from Noneco Corporation to freedom and I hired Winona to create the art for that, and I'm really happy with the digital painting she came up with!
I've shared many pin-ups from my previous Kickstarters with the folks who support me and this comic on Patreon, but I realized that I hadn't shared this one yet. And it's actually one of my most favorites. (I think the rendering of the kiss is really beautiful. And I especially love the colors overall—so vibrant!)
If you'd like to see the full image, download wallpaper version for your desktop and mobile phone, and help to keep this comic going, please consider joining me and your fellow reader-superheroes on Patreon.

NEW PATRON THANK YOUS
The truth is, the only reason I'm able to keep making The Young Protectors is because of the very generous support of readers like you on Patreon. Especially now. And we had 6 new folks sign up over this week! So, please join me in sending out a very special thank you and welcome to the new members of the Woolfpack this week!
Fred A., Jason H., Matheus M., Larry P., Roger P. and Mark W.
Thank you so much for your amazing support, Fred, Jason, Matheus, Larry, Roger and Mark! You and the other members of the Woolfpack are all the real superheroes of this comic!
(Would you like to make sure this comic continues? Ready to dive even deeper into The Young Protectors world? Learn more about all the benefits of joining me and your fellow readers as part of The Young Protectors tribe on Patreon and then join the fun!)
So!
So! Teen Spooky, Flyboy and Amanda are back to doing what they do best—being superheroes! And by taking on the most notorious criminal kingpin in Bay City, it looks like they're wasting no time getting into the line of fire again!
Who exactly is this MacGregor? What dangers will our heroes face in trying to get at the Shard in this guy's private home? And will they even be able to work together as a team after all that drama on the oil rig?
Tune in this Wednesday to find out! Hope to see you there! :smiley: